The Complete Guide to Instagram Reels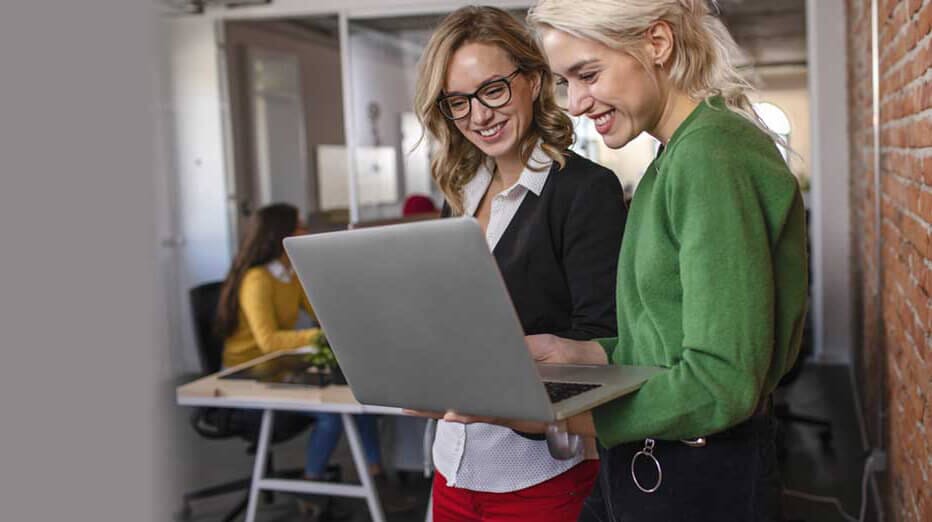 It's safe to say we've all seen the influence TikTok has in many aspects of life. Songs from years or even decades past catch a trend on TikTok and, suddenly, they're heard everywhere.
Trending dances or video concepts connect individuals from all corners of the world. TikTok ultimately plays a part in many aspects of life, and the influence this platform has had on other socials is undoubtedly worth noting. Instagram is one prime example of this.
The Introduction of Instagram Reels
The introduction of Instagram Reels was based heavily around the concept (and success) of minute-long TikTok videos. As a result, these two platforms are now very much intertwined when it comes to trending sounds, ideas and even hashtags.
What's found trending on TikTok will usually find its way into Instagram Reels. However, there are likely some benefits of Instagram Reels that many of us might not even be aware of.
Instagram Reels ultimately allow you to share short but sweet videos to engage with your audience. One of the considered benefits of growing your Instagram this way is that your content will be seen by more users that can view your Instagram profile. Therefore, if you're someone creating content that applies to both images and videos, then the introduction of Instagram Reels might be the perfect way to grow your following!
Now, let's dive right in, shall we? Here is all of the information you will need to know when finding and catching trends.
What Are Instagram Reels And How Do You Use Them?
On Instagram, you will need to go to the section you would typically upload a Story or do a Live, but instead, you will choose the option to create a Reel. After you've clicked on this, Instagram will present you with various editing tools such as Effects, Audio options and even the Speed at which you want to create your Reel. There are multiple options to choose from when it comes to recording your Reels, and they can either be done all at once or by choosing uploads from your phone's gallery.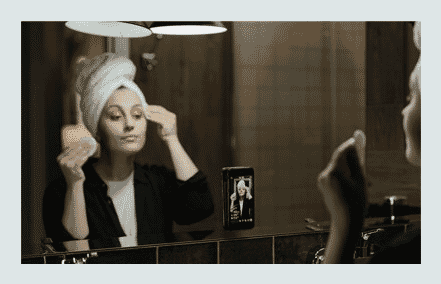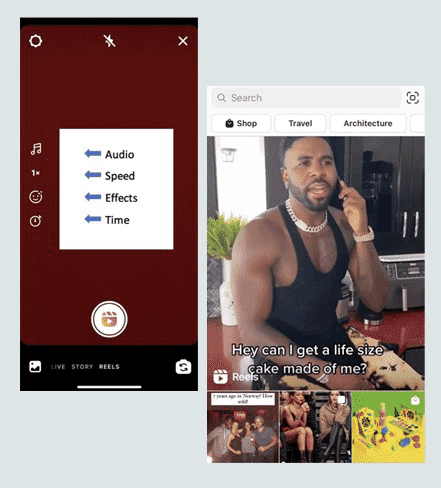 You can ultimately make these Reels as unique and engaging as you would like them to be! Once your masterpiece is complete, you can either share it with your selected friends (if your account is private) or to all of Instagram (if your account is public). These Reels will often show up on the Explore Page of Instagram, so they could very well be seen by thousands of people, if not more.
With this said, Reels are ultimately an incredible way to gain a following or increase your audience, as they can be put in front of many people who don't even need to be following you to see them.
This new Instagram feature has put countless people's content in front of new eyes, and we surely don't think anyone will regret this new addition. But how do you know what kind of content to create?
TikTok's influence on the content we see through Instagram is significant. Many trends that we find on one platform transfer to the next. However, not every TikTok trend seems to translate perfectly to Instagram (which, if you ask us, isn't necessarily a bad thing).
---
So, you might be asking yourself, how can we know the difference, and how do we catch the right trends?
Finding Trending Sounds
One of the most significant ways to gain traction with any Instagram Reel (or TikTok, for that matter) is based on the sounds you use. In many people's experiences, what's found trending on TikTok will usually trend on Instagram, too. Mainly, where specific sounds or music are concerned, TikTok's influence is unparalleled.
Our first suggestion when findiing music to create Instagram Reels involves turning to TikTok. By looking through the Discover Page on TikTok, you will find sections labeled as "Top," "Users," "Videos," "Sounds," and "Hashtags." From here, you can do some research by looking through both the "Top" and "Sounds" sections.
You will see all of the top sounds and how many times they've been used during this time. It's good to stay on top of what's trending when creating content. In some cases, if you are really aware of what's trending on TikTok sounds, you could be one of the first to bring that trend over to Instagram. This could very well result in a higher rate of people using your sound, which would increase audience engagement.
Another way to choose trending sounds for your Instagram Reels is going straight to Instagram itself. On the "Reels" section of Instagram, you can click on the music option provided to see what's offered. These songs will typically be what's already trending on the app and will be a solid basis for your content creation. After looking through these sounds, it is a good idea to make notes of what they are and begin to brainstorm content ideas around them.
Many people will write the different songs in the notes section of their phone or create playlists to feel inspired when making videos.
You can also research by scrolling through your feed to see what others are doing. By analyzing engagement levels of other posts, you can use specific sounds and create unique content from them. One thing to remember is even if you use trending sounds, you can still create new and exciting pieces of content! Just remember to have fun with it!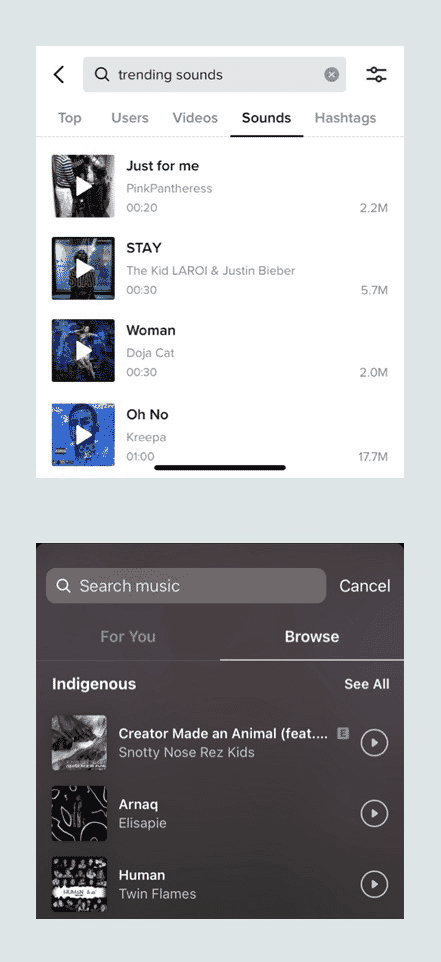 Finding Trending Content
Finding trending content to use for Instagram Reels ultimately goes hand-in-hand with trending sounds. Whether you find them through Instagram or TikTok, trending content is typically created with the same sounds.
Therefore, following the similar steps mentioned above to look through trending sounds will likely give you the information you need. By taking a deeper dive into the trending sounds, you can see what kind of content is repeatedly being developed with those sounds! Whether they're specific dances that go along with the songs or popular video concepts, this is an easy way to catch trends at the right time.
One helpful tip that we want to present now is the idea of filming behind the scenes. Regardless of your profession or what content you're creating, there is just something about the transformation process that is so intriguing.
Whether you want to show yourself at point a to point b, or all of the steps in-between, creating content that essentially shows all of the trials and tribulations of your journey, is one type of content we would recommend. Because this "trend" doesn't need a specific kind of creator or skill set, ultimately, anyone can create content as they progress in whatever it is they're doing.
Some might say this type of video is so popular because it inspires others and teaches them a thing or two. This brings us to our next point. You can never go wrong with creating content of value.
Say you're creating a short video series on teaching individuals how to cook healthy, sustainable meals, providing information on the best travel tips, or important things to keep in mind when going away to school. Maybe you're a doctor or a therapist or someone who works with animals. You can ultimately create content based on whatever area in life you have considerable knowledge in or are passionate about. Of course, it's important to catch trends, and it's even better if you can hop on trends within your niche. But remember, it's important to provide value and you can never go wrong with creating content that provides your audience with knowledge and insight.
Doing this will likely not only get your content seen by larger audiences but will help you establish connections and relationships with others. Your content will ultimately reflect who you are, so it's essential to keep yourself present in everything you create.
Overall, it's pretty safe to assume that the trending content on TikTok will very seldom not translate to Instagram Reels. However, although not every trend should be brought onto Instagram, most of what you see on TikTok can be made into Reels. So, our best advice is to keep doing your research and find your balance of catching trends while also bringing something new and exciting to the table.
Finding Trending Hashtags
When brainstorming ideas for Instagram Reels content, one useful tool is looking through Hashtags. Whether you're looking on TikTok or Instagram, you will be able to search and see what Hashtags are trending or are most popular and their specific search results.
For instance, when looking through the Discover Page on TikTok, you can search for anything you might have in mind and then navigate your way to the "Hashtags" section at the top of the screen. You can even type in something as specific as "Instagram Hashtags" and be provided with a long list of any related hashtags and the associated content.
From here, you can scroll through and watch countless videos within your hashtag search. This "Hashtags" section of TikTok will provide you with endless information and insight. Since there are millions of videos and users on TikTok to learn from, scrolling through this section and finding trending hashtags will be relatively straightforward and rewarding.
When looking through Instagram to find trending hashtags, you will follow a similar principle. By going to the search section of Instagram and choosing "Tags," you can begin typing in any hashtags relevant to your desired content. For instance, typing in "Digital Marketing" will provide you with endless hashtags related to your initial search. This will give you a good indication of what the most popular search results are that can help you create Instagram Reels that will trend.
So now you've created your Instagram Reel, and you want to implement all of the hashtag research you've conducted. Here are a few important things to keep in mind when doing so.
Firstly, you want to ensure that every hashtag you use starts with a # sign and is free of any spaces, punctuation, or symbols. Before posting any Reels, it is a good idea to set your Instagram account to "Public" to expand the audience it can reach. By doing so, you are allowing your videos to go on the Explore Page of Instagram, where they will be seen by many more people than just your followers. This allows higher engagement levels and, likely, more people to be directed to your account if they like the content they see.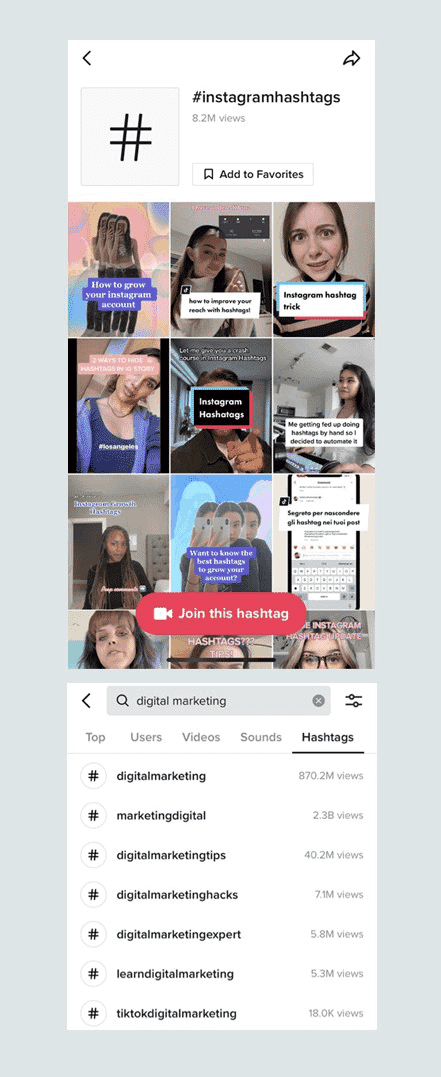 Conclusion
All in all, it's important to do your research on what's trending so your content can gain traction. However, we also recommend going down your own path every now and then, too. Creating content for social media should always be looked at as a creative outlet to share with others.
Although catching trends is a proven way to increase engagement and your audience, it's important to not stray too far away from creating content you're passionate about. Who knows, yours might just be the video that starts the next viral trend. Just remember to have fun with it and never lose your sense of creativity — because, after all, that's the main point of creating content. Isn't it?
To learn more about how to optimize your social media and online platforms, download the complete social media marketing e-book for business.