What Are the Correct Instagram Content Dimensions and How Can You Achieve Them?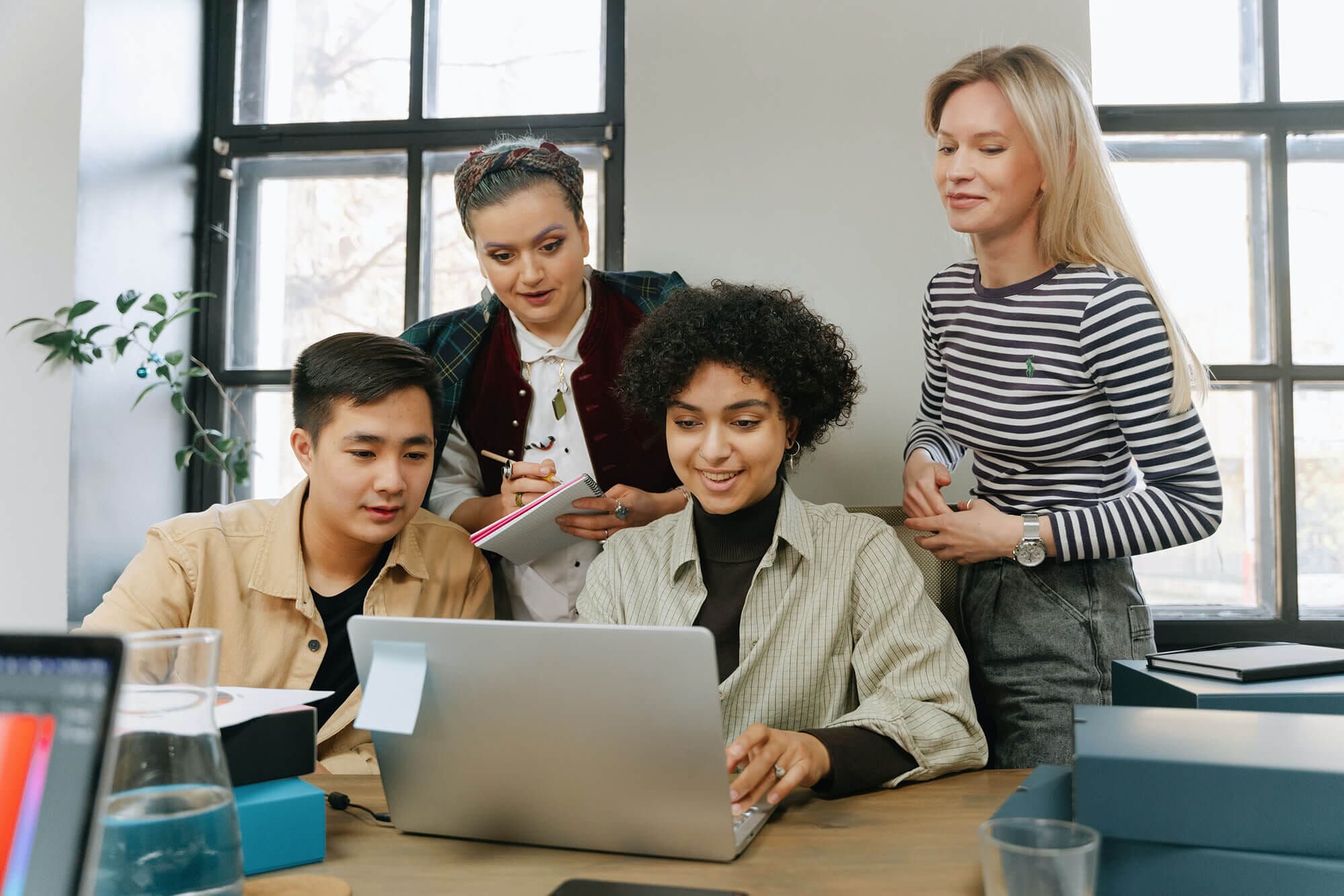 It's safe to say that Instagram has been expanding all the ways you can post content on its platform. There are now endless ways to display your content from individual pictures to carousels, Reels to videos, and more. But, with all that said, have you ever created the perfect video, only to upload it and realize the dimensions were off? Maybe you go back and forth to the drawing board only to discover that your cover art or the image you worked so hard on keeps getting cropped. Although it can be somewhat frustrating, we're here to help!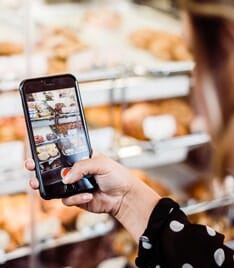 Instagram is meant to be a space to bring your creativity to life through visual aesthetics. With that said, here's what you need to know about Instagram dimensions to ensure your hard work is never wasted.
What are Instagram's Dimensions in 2022?
The dimensions will vary depending on many factors, from the orientation of a photo to the length of a video and more. In 2012, Instagram was established, and, at the time, photos could only be uploaded in a 1:1 ratio, meaning any landscape images would be cropped. Years later, they changed the dimensions to allow other image styles to be posted the way they were intended to be. Today, there are multiple formats for video layouts, too. However, with all of these different options to choose from, keeping track of the correct dimensions can sometimes feel overwhelming.
Standard Instagram Post
When uploading a standard Instagram post, the ratio will be 1:1, or 1080 x 1080 pixels, just as it was at the very beginning. This specific size also applies to carousels. Therefore, if you're planning to post multiple images together in a carousel-style, you don't need to change any of the dimensions.
Portrait Style Images
Ideally, you will need to upload these photos as 1080 x 1350 (pixels), or an aspect ratio of 4:5. As a point of reference, Snapchat pictures are a ratio of 9:16. Therefore, if you save a picture from Snapchat, for example, and try to upload it to Instagram, the dimension will be much different.
Landscape Style Images
With a 1.91:1 ratio and 1080 x 608 pixel size, you can now upload landscape-style images without worrying about anything being cut off.
Profile Picture Size
Although this isn't necessarily a dimension for a post, knowing the size you should be using for your profile picture is also important. Many businesses will upload their logo as their profile picture, so it's essential to know the size so that nothing is cropped. For profile pictures, you're looking at 360 x 360 pixels. For context, when we talk about a profile picture, we're speaking about the little bubble that appears on your Instagram page. This is what people will see whenever you post or add stories and will be an indicator of who you are. Here is an example of what we mean by an Instagram profile picture.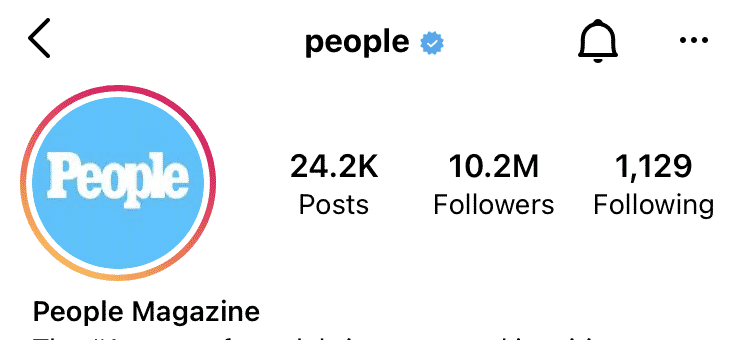 Instagram Story Size
When speaking about Instagram stories, these rather newer features have become very popular and are a way to further connect with your audience. There are countless ways to now customize your stories (stickers, tags, GIFs, etc.); however, knowing the right dimensions is the first step. For stories, the size will be 1080 x 1920 pixels, or a 9:16 ratio.
This is a very important one to know, as the impact of using Instagram Stories to your benefit is significant. Because these stories can be highlighted to your profile, it adds a whole other depth to your content and overall account. Although Instagram Stories only stay up for 24 hours, if you highlight them, they can stay on your profile for as long as you want them there.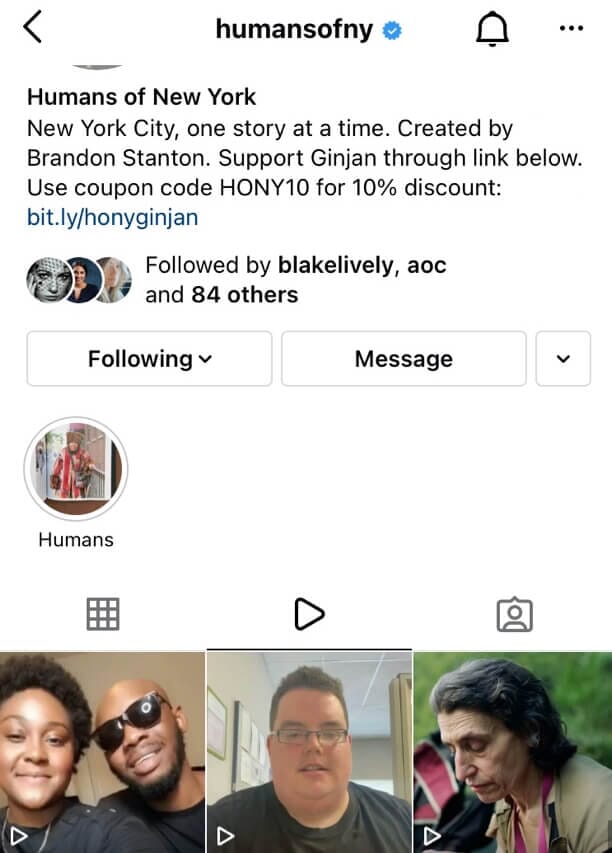 Instagram Feed Videos (Under One Minute)
When uploading a video to Instagram, there are now a few ways you can do so. One option is uploading videos under a minute as standard videos to your Instagram feed. The dimensions for these videos are the same as the sizes listed above for square, portrait and landscape images. Therefore, if you're looking to post a square video, your dimensions will be 1080 x 1080 px and a 1:1 ratio. If you're uploading a portrait-style video, it will be 1080 x 1350 pixels and a 4:5 ratio. Lastly, any landscape-style videos will need to be 1080 x 608 pixels and a 1.91:1 ratio. Regardless of the style of your video, as long as it's under one minute, you can upload it as any of these options.
When looking at an account, this "play" icon is what represents standard Instagram videos. Alternatively, IGTV and Instagram Reels have separate sections entirely.
Speaking of Instagram Reels, they are a wildly popular alternative to the standard posting of videos under one minute and is the second option for uploading this type of content. Here's what you need to know about Reels.
Instagram Reels
Instagram Reels have become regularly used by brands, businesses and individuals alike. Taking inspiration from the success of TikTok videos, these short-form videos can be up to 60 seconds long. Therefore, if you have videos you'd like to upload under 60 seconds, you actually have the option to choose a standard video upload, as previously mentioned, or an Instagram Reel. The dimensions of an Instagram Reel are 1080 x 1920 pixels with a 9:16 aspect ratio.
When it comes to Reels, there are a few things to keep in mind. How they appear on Instagram's feed, and how they are viewed in the Reels section are actually different dimensions. To be more specific, when a Reel is viewed, it is 1080 x 1350 pixels, because Instagram automatically zooms in. Therefore, if you'd like all of your text to be seen when uploaded to Instagram's feed, then it's best to keep the writing within these perimeters. We would recommend determining a "text safe area" when planning out your Reels for many reasons. When you upload your video, you also need to take into consideration that Instagram automatically adds in your account name, caption, audio, etc., at the bottom of your screen, as well as icons for liking, commenting and sharing in the bottom right corner. Although there is no standard size or dimensions that we can provide for this "text safe zone," we recommend keeping the most important text at the centre of your video.
The next step for uploading an Instagram Reel would be creating a cover image. You will want to ensure you're looking at the cover photo as this will be how your Reel is displayed on your profile. Before completing your upload, you will click on the "cover" option and will be prompted to either use a section of the video as your cover or upload another image entirely. This cover will show both on the Reel itself as a full-length image, and on your profile as the standard 1080 x 1080 pixels.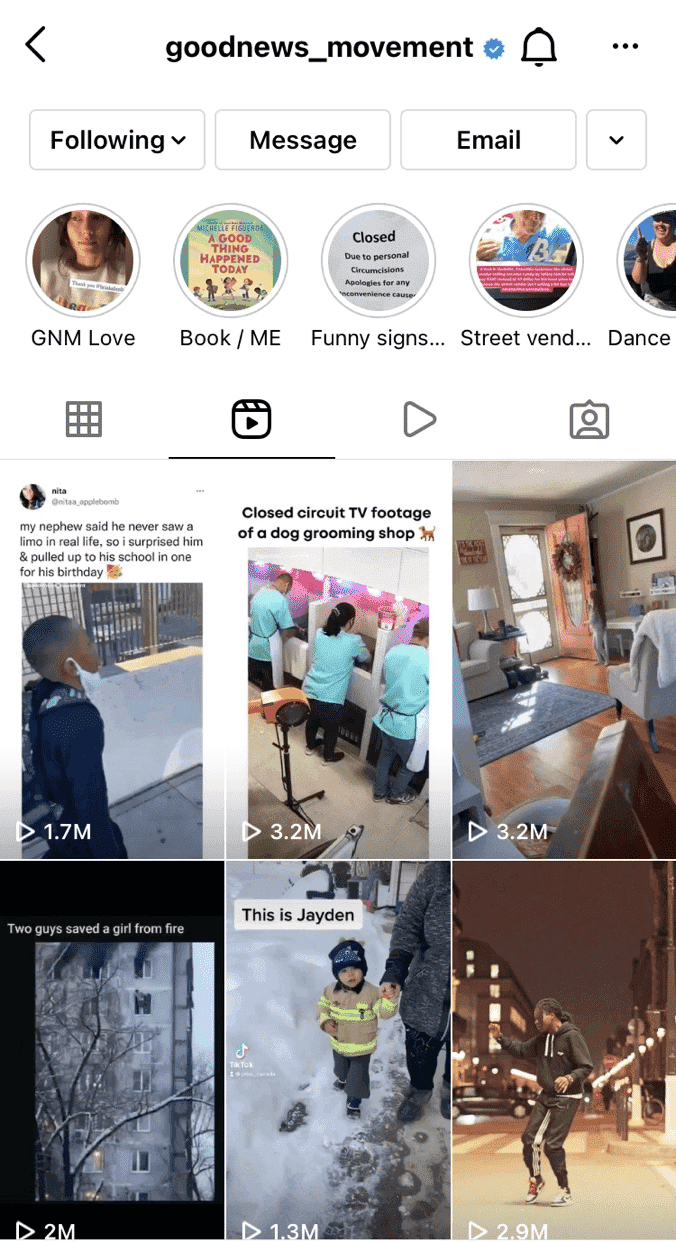 Another thing to keep in mind when it comes to Instagram Reels, is the caption. Just like with other Instagram captions, Reels can have a maximum of 2,200 characters and up to 30 hashtags. However, the first 55 characters will be what people see at first glance, and if they want to read the rest of your caption, they will have to click on "more." Therefore, if your caption is any longer than 55 characters, then it's safe to say that you should steer clear of putting writing on your actual Reel anywhere close to the bottom. This can make it look congested and is something to be mindful of as it can affect your viewer's ability to read your content.
When looking at one's profile, this is the section where you will find their Instagram Reels. As you can see, the "play" icon we spoke about earlier that represents standard videos is beside it. When comparing the two images, you can see that the dimensions are much different from standard Instagram videos to Instagram Reels.
IGTV Size Guide
In contrast, IGTV, which stands for Instagram TV, allows users to upload long-form videos, essentially just as you would on YouTube. When establishing the right size for your IGTV video, it will depend on what style of video you are uploading. Just as the pictures all have different styles that you can upload them as IGTV has its own group of options to choose from. If you're uploading a portrait-style IGTV, you will be looking at 1080 x 1920 pixels, or a 9:16 aspect ratio. If you choose to upload an IGTV as a landscape video, your dimensions will be the opposite at 1920 x 1080 pixels and a 16:9 aspect ratio.
Here is an example of what an IGTV video will look like.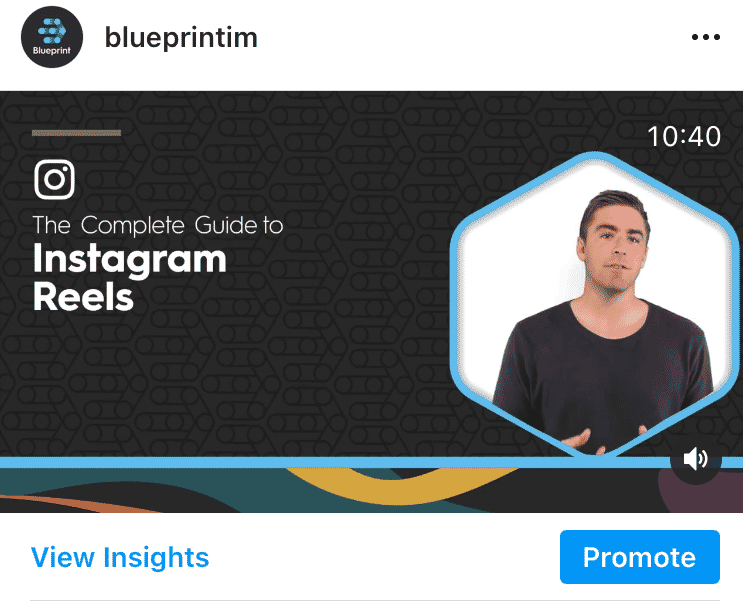 When it comes to IGTV, you will need to create a separate cover image that shows on your profile. This is important to remember, as you want to ensure that everything looks neat, clean, and cohesive with your branding. The dimensions of the cover image will be 420 x 654 pixels or a 1:1.55 aspect ratio. It's also a good idea to ensure that all of the writing is kept towards the centre of the image so that you don't risk part of it being potentially cut off. The image formats should also be in JPG or PNG format.
---
Programs You Can Use to Create the Right Content Dimensions
After reading about all of the various sizes on Instagram, you might be asking yourself how you will create posts with those specific dimensions. There are a few different programs you can use, including;
Canva
Unfold
A Design Kit
Cut Story
From creating picture and video designs of your own to using various templates they have to offer, it's certainly worth it to turn to any one of these platforms for some help. You might actually find that they not only make it much more straightforward to figure out dimensions but will also improve the overall quality of your content.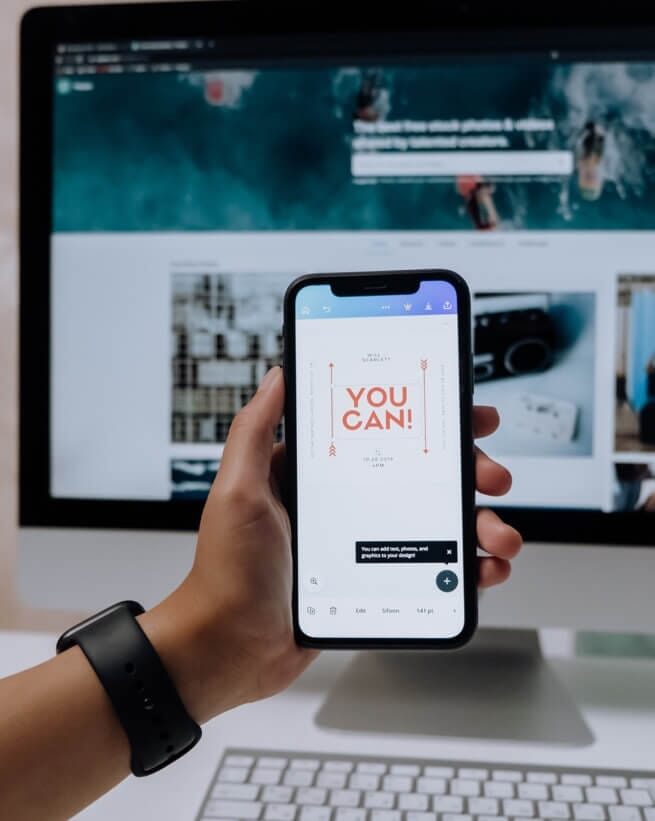 Conclusion
There are now more ways to upload content on Instagram than ever before, and staying up-to-date on which dimensions to use can seem overwhelming. However, with this guide and all of the resources mentioned above, we hope you feel more confident knowing that your content can be viewed, enjoyed and appreciated the way it was intended to be. To learn more about the best social media practices, download the complete social media marketing e-book for businesses.