Key Components of a Great Corporate Website Design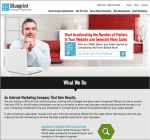 Taking the time to plan and develop a solid corporate web design for your business is vital. Your corporate website contains all of the information about your company and its products and services. It allows you to tell your story and establish your brand and credibility within your market. Also, in order to rank organically in search results of search engines, such as Google, you need to have a multi-page site for SEO.
Here's an example of a corporate website design for Blueprint: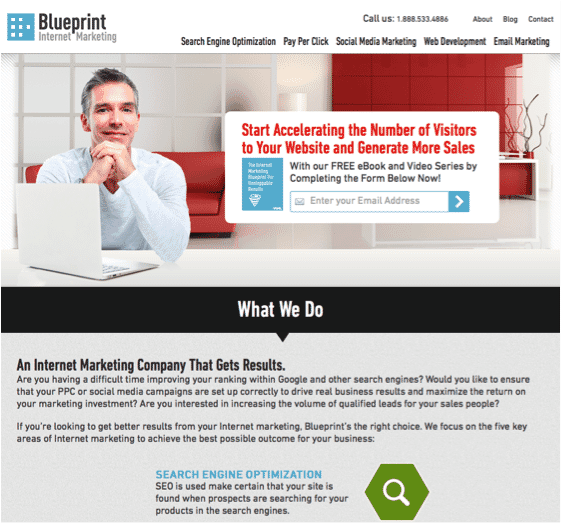 In order to build a great website, you must know and understand the different pages and sections and the purpose that they each serve. Let's take a look at each piece individually.
Home Page
Your home page is the face of your website as well as your brand. Your home page should have 3 key sections:
Section 1 – The top section. In this section, present your main value proposition and make an offer to your visitors
Section 2 – The middle section. This is where the bulk of your website copy will be, and should immediately communicate why what you have to offer is important to your visitors. Explain briefly how your product or service works and what it will do for them. Differentiate yourself and show your prospects why they should choose you over a competitor, and support your claims with social proof, such as testimonials. This section should include links within the copy that lead to key interior pages of your website for SEO purposes
Section 3 – The bottom and final section. Restate the offer originally presented at the top of the page
Together, the home page may look something like the following example:
About Us Page
This page gives you a space dedicated to telling your story and history, allowing you to position yourself in the market and communicate your values to your prospects. Include a section to highlight team members and their expertise. Here's an example of an About Us page and team member highlight: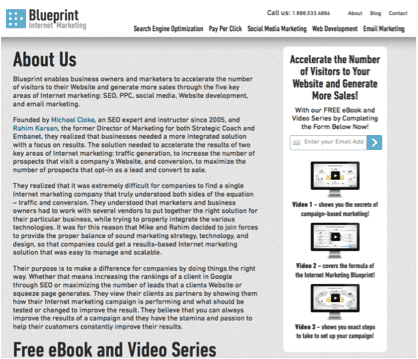 Products/Services Page
This page should be a complete list of your products and services, along with individual pages for each product or service. This enables your prospects to quickly and easily see exactly what you offer, as well as to learn about products and services other than the one(s) they were originally looking for. Each product or service listing should include a call to action asking the prospect to buy or request more information in order to maximize lead generation and conversion.
News/Events Page
This is a great place for industry and company news, blog posts, and upcoming events.
Contact Us Page
This page proves you're a real business, and includes the full address and contact information of your business, as well as an information request form. Here's an example page: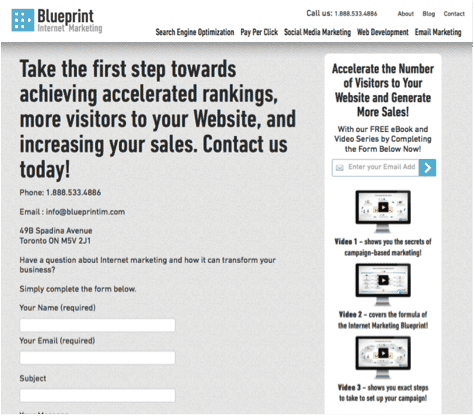 Website Development
There are many content management platforms which you can use to build your website. Here are several options for you to explore:
WordPress – Free, easy, highly customizable, and SEO-optimized. The best choice
Joomla
Drupal
Hand-coded
Building a complete corporate website establishes credibility, values, messaging, and shows your customer exactly who you are and what you offer. It's a great way to boost your ranking as well as your customer relationships.
Please share your thoughts and comments with us below!