Top Tips For Great Web Design So You Can Increase Sales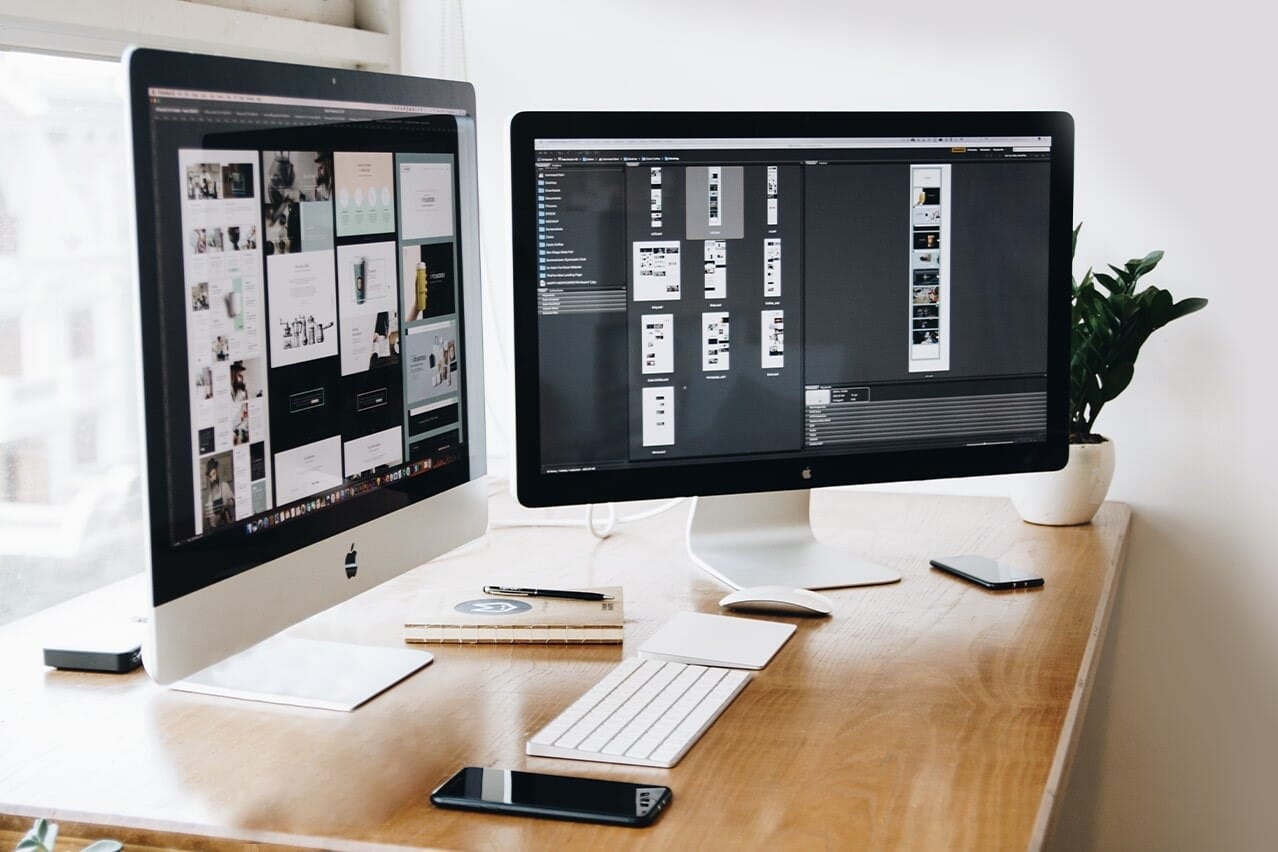 Web design is incredibly important for your business, and taking all the necessary steps to ensure that it's done well can make all the difference. From bringing more people to your site to increasing sales, there are many reasons why ensuring you've prioritized great web design for your business is important. There are a handful of fundamental elements to remember and why they're so important. Below, we'll provide you with what you need to know about great web design so you can increase sales.
Why Is Web Design So Important?

Sets the Tone For Your Business

It's safe to say that first impressions are significant, especially concerning a business. When customers take the first glance at your website, what will they see? Is it professionally and thoughtfully constructed? Easy to navigate through? User-friendly? There are many aspects to consider, and what customers see on your website will ultimately give them an understanding of what your business is all about. Additionally, it will give them the information they need to know how to interact with you and your business. If your images or text appear disjointed, hard to navigate through, or there are many errors or spelling mistakes, more often than not, customers will assume that's what they can expect from the business as a whole. Likewise, if the consumer sees that not a lot of effort has been put into presenting a great website, then oftentimes, they'll assume that the quality of the work or products they will receive from your company will be in line with this, even if that's not the case. Think about it like your website is the face of your business, and in order to establish relationships and build trust, it needs to be well thought out and done right.

Can Build Trust With Your Audience

As previously mentioned, the appearance of a website plays a large role in building trust. If you want to sell products eventually, it means people will need to put their payment information in one way or another. However, even if your products and company are entirely legitimate, the appearance of a website that lacks professionalism will make it appear as though they're not. If that's the case, it's likely that consumers will not feel comfortable disclosing or sharing sensitive information like their credit card numbers. Alternatively, there are a handful of ways to improve your website's appearance to build trust with your customers.

Helps With SEO Strategy

Not only is a well-constructed website beneficial in terms of appearance and presentation for consumers, but it can significantly help your SEO strategy. Search Engines require that you have certain web design elements, like specific keywords or phrases within your niche, so your website can rank. They also work off websites that are content-rich, unbiased and include internal and external linking. By including these elements and having a professional site developed, your site will have improved page rankings, making it easier for individuals to find. For a full breakdown of improving your website SEO, you can refer to our article here.

Can Increase the Chance of Leads

The increased ability to generate leads comes hand-in-hand with the idea of improving your SEO strategy. You will naturally have higher organic traffic by having your website optimized for search engines. This equates to more leads, which essentially means more customers potentially buying from your business. For instance, say your website link comes up as one of the first options after someone searches for something specific, like digital marketing companies near me.  If you have the necessary information attached to your website, like who you are and how they can contact you, there is a greater chance they will. Making things easier on your customers and opening up lines of communication should be heavily considered when designing your website.
Tips For Creating a Professional Website
1. Ensure Your Homepage is Clutter-Free and Well-Organized
When designing a website that will provide opportunities for all of the previously mentioned items, there are a few things to keep in mind. For starters, you should ensure that your homepage is clean and well-organized. A homepage that has a lot going on or is cluttered will deter people from proceeding any further with your website. This is why it's important to create content that is easy to read and navigate through, and there is a visual hierarchy implemented. This means ensuring that every aspect is well thought out, and the most important information you want your customers to see is front and center.
Your core messages should be effectively communicated here, and your customers should ultimately not be left asking questions about who you are or what your product or service is. With that said, you should still be mindful that you do not bombard your page with too much writing. Instead, keep things clear and to the point and allow information to flow naturally while providing readers with a quick snippet of the most important points. Keep the most important information at the top of your website. Your customers shouldn't need to scroll too far to find the most important information, like what your business is about or what you have to offer them – it should be present as soon as they go on your website.
2. Be Intentional With the Design of Your Homepage
The homepage. It's the first thing people see when they come to your website, which is why it's so important to be intentional with its design. When it comes to your website's design elements, it's recommended to leave a bit of white space between your writing and break the paragraphs down into smaller sections. That way, there are breaks between information and more room to let the page breathe. Within these spaces, you can add pictures, illustrations or icons to create a visually appealing aspect to have viewers engaged. You can also effectively use images to communicate your main points further.
3. Include Certain Sections Within Your Website to Build Trust
Building trust with your customers is key. In a world of digital communication, it can oftentimes be difficult to trust the person or business on the other side of the screen. This is why it's so important to consider transparency and honesty in your website. The first way to build trust with your customers is to ensure your landing page is well constructed and free of errors. This will add a level of credibility to your site and, thus, your company.
The next thing you can do is ensure that you have an "About Us" page that speaks about your company, its background and its people. Who are you, and why should your customers trust you? Why should they buy from you? It also helps to have pictures on here so that your customers can put faces to the names of the people they will potentially be buying from or interacting with.
Another aspect of your website that builds trust is testimonials. Having reviews written by real people about their experiences with your company or reviews of your products can help significantly. Word of mouth is incredibly powerful, as we're often influenced to make purchases or visit a specific place based on what the majority has said about it. So, if you have some testimonials that speak to what customers can expect from your company, then ensure you have them on your website. It will make all the difference!
4. Ensure There's a CTA on Your Homepage
Ensure you include a call to action (CTA) on the homepage. Whether it's a button that allows your customers to sign up for something, view a free e-book, etc., make sure that there is some action present that customers can take. For example, here is a CTA that is present on Blueprint Internet Marketing's website, which viewers would see within seconds of scrolling on the homepage.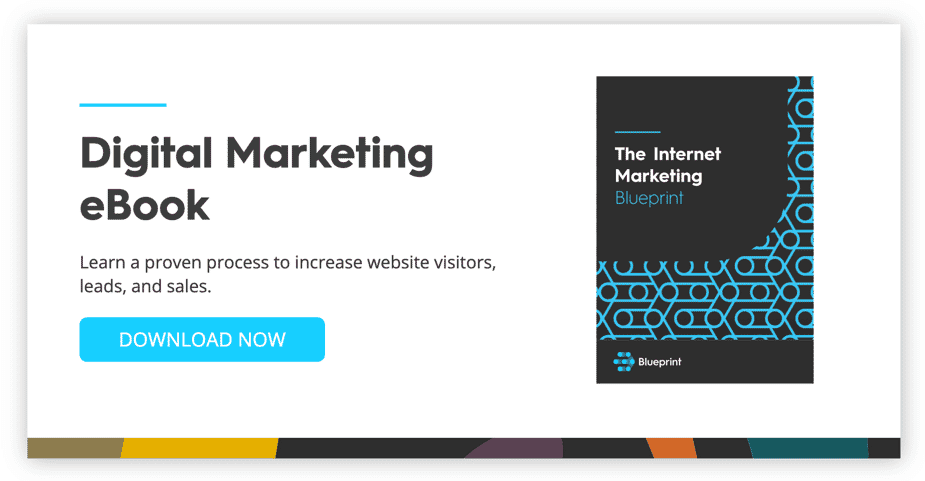 5. Establish Consistency Across Your Website
Consistency across your website means maintaining a uniform look and branding image. It also means ensuring readability for your customers with words that are easy to recognize and smooth enough content to skim through. Within this consistency is not only the language on your website but also the tone.
Additionally, contrast is key when creating great websites, in which you should clearly differentiate between the colour of the writing and the background colour. You should also ensure that your font is big enough for people to read, typically at least 16-font. Furthermore, the font style itself plays a large part in the readability of your site. Try to stick with clean and simple fonts, and do your best to limit the number of fonts across your website. Once again, simplicity is better, and so is consistency.
6. Ensure You Include Specific Features
Link Your Logo
When designing your website, it's important to ensure you're considering functionality. By linking your logo to your homepage, it allows customers to easily navigate through your website and once again presents the desired uniform look. If you don't already have a well-designed logo for your business, we highly recommend having one created professionally.
Add a "Back to Top" Button
Additionally, including a "back to top" button at the bottom of every page will make things more accessible, and your website will run more smoothly.
Include a Footer
Although it may not always be the first thing that comes to mind when designing your website, including a footer where you have all of your most important links is key. By adding in things like your social media icons or any other relevant links that visitors might want to access, you're providing a bridge between the website itself and other media outlets for your business. It would be an incredibly missed opportunity not to include these external links within your website, as you are essentially bringing traffic to your other platforms. This is an excellent means of increasing your audience across various channels and making contact information more accessible for all. Here is another example from Blueprint Internet Marketing's website, in which all of the social media platforms and means of communication are linked or present.

7. Ensure Your Website is Mobile Friendly
Creating a website that is mobile-friendly ensures that users can view your content regardless of the device they're using. Additionally, it has also been proven that Google is more likely to push your content for specific keywords or phrases if there's a mobile-friendly version than if there isn't.
When creating your mobile version, you should consider the fact that, of course, things will be smaller and more condensed. Therefore, it's important to ensure that it's free of clutter, which might involve you scaling down on some aspects of your website layout. Keep it clean and simple, and avoid lengthy paragraphs or loads of information at once. And if you're ever unsure how to approach things, it's best to look and see what others are doing! By looking at other mobile versions of websites from an outside perspective, you can see what you like and don't like about what others are doing and make necessary changes to your website based on that information.
Conclusion
By keeping all of these aspects in mind when designing a website for your business, you can ensure that you are considering the viewer's experience and accessibility. Additionally, it also adds to your credibility and reliability as a business all around, which will directly translate to a greater chance of making sales. By being intentional and thoughtful with how your designs will translate to every person viewing them, you can ensure that the entirety of your website is user-friendly. By linking other platforms or contact information, you are making it easier for your future potential clients to find you elsewhere or reach out to you quickly. All in all, designing a website should always consider how you can make things easier for your customers. Ensuring that you're putting in the work, so they don't have to will more likely than not result in a better user experience, which has a ripple effect on the comfortability of customers and the likelihood of sales.
If you'd like more insight on how to improve your website, download our web development e-book.